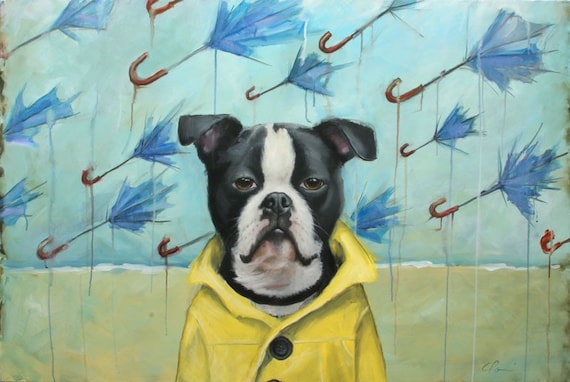 Friends, it is supposed to be a very wet weekend in New York City. I have tickets to an
outdoor
Wilco concert tonight, so I can pretty much bet I'll be spending the evening wet. Looking for a bright side (since I was, admittedly, being pretty grumpy about the weather) when I was out and about today, I remembered one of my favorite things about rainy weather: dogs in raincoats.
It's totally silly and probably doesn't even keep the dog that dry, but I smile every time I see it. Especially when they're wearing little tiny rain booties. Ha! So, here's to seeing the silver lining/dog-in-a-rain-coat on this rainy weekend.
Images:
"Wonky Bumbershoots"
by hartart13 on Etsy, red rain coat, yellow rain jacket.