I can't count how many times a day I hear about pumpkin spice this or that (mostly lattes) but to me, it's not yet time for pumpkin. Pumpkin belongs to October. September is time to turn the oven on again, but fill it with summer's harvest - like tomatoes. September's appetite is for warm food mixed with cool, like roasted squash with goat cheese. September doesn't stick to your ribs, but it's almost time for food like that. Here's what I'm craving now, in this limbo land between summer and fall.
Slow Roasted Tomatoes
A recipe from one of my
favorite food writers
, by way of her favorite restaurant in Seattle. A small group of friends ate a bowl full of these with crusty bread and creamy goat cheese on Labor Day, and I still need more of these in my life.
Ultimate Grilled Cheese Sandwich
I love tomato on grilled cheese, but this one takes it up a few notches with basil, prosciutto, and red pepper flakes too.
Butternut Squash and Goat Cheese Salad
I don't always love butternut squash, it's sometimes too sweet or too heavy, but the cilantro and goat cheese in this salad really brightens it up. I usually eat a big portion as a meal, but it'd be great before something warm and hearty like roast chicken.
Chicken Stew with Onions, Tomato and Dijon
This stew is perfect for fall, but I'll definitely be eating it through the winter. It's rustic and flavorful, equally good on a pile of rice, mashed potatoes, or sopped up with a baguette.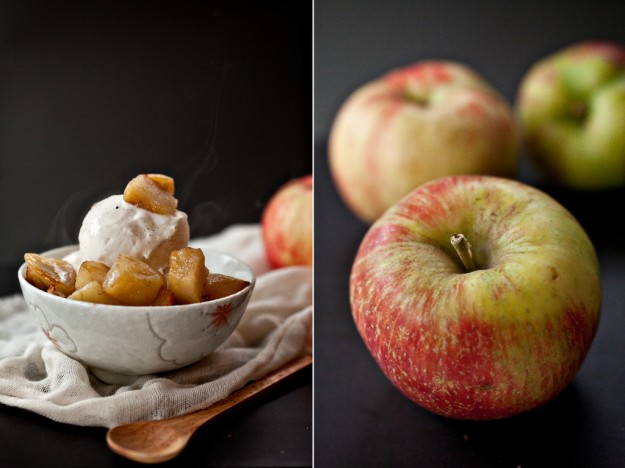 Roasted Apples (with Vanilla Ice Cream)
Every fall, when the counters are full of apples from a recent apple picking trip, my friend Kate requests baked apples in some form. This year, I want to try these roasted apples instead - don't they look amazing?
Plum and Mascarpone Pie
Roasted plums over lightly sweetened mascarpone cream. I'd add a little cinnamon, I think.
What are you looking forward to cooking up this fall? Or just eating, if cooking isn't your thing :)
Photos by: moi,
Molly Wizenberg
,
Scott Peterson
, me again,
Elise Bauer
,
Ashley Rodriguez
,
Ditte Isager